Let's Talk About Sex & Reproductive Justice
In memoriam of Leilani Muir and all those killed by the conditions at the Michener Centre.
Episode description
Throughout Canadian history provincial governments have worked to control the sexuality and reproduction of people with intellectual/developmental disabilities. For fifty years, Alberta's Sexual Sterilization Act (1928), made it legal to sterilize people labelled with intellectual disabilities without their consent. More than 2,834 people in the Alberta were subject to involuntary sexual sterilization surgery, but experts say this is just the tip of the iceberg. And today, access to sexual and reproductive rights for people with intellectual/developmental disabilities continues to be compromised by both ableism and institutionalization.
Featuring Dr. Claudia Malacrida, Dr. Alan Santinele Martino & institutional survivors.
Read the episode transcript below or by clicking on this link.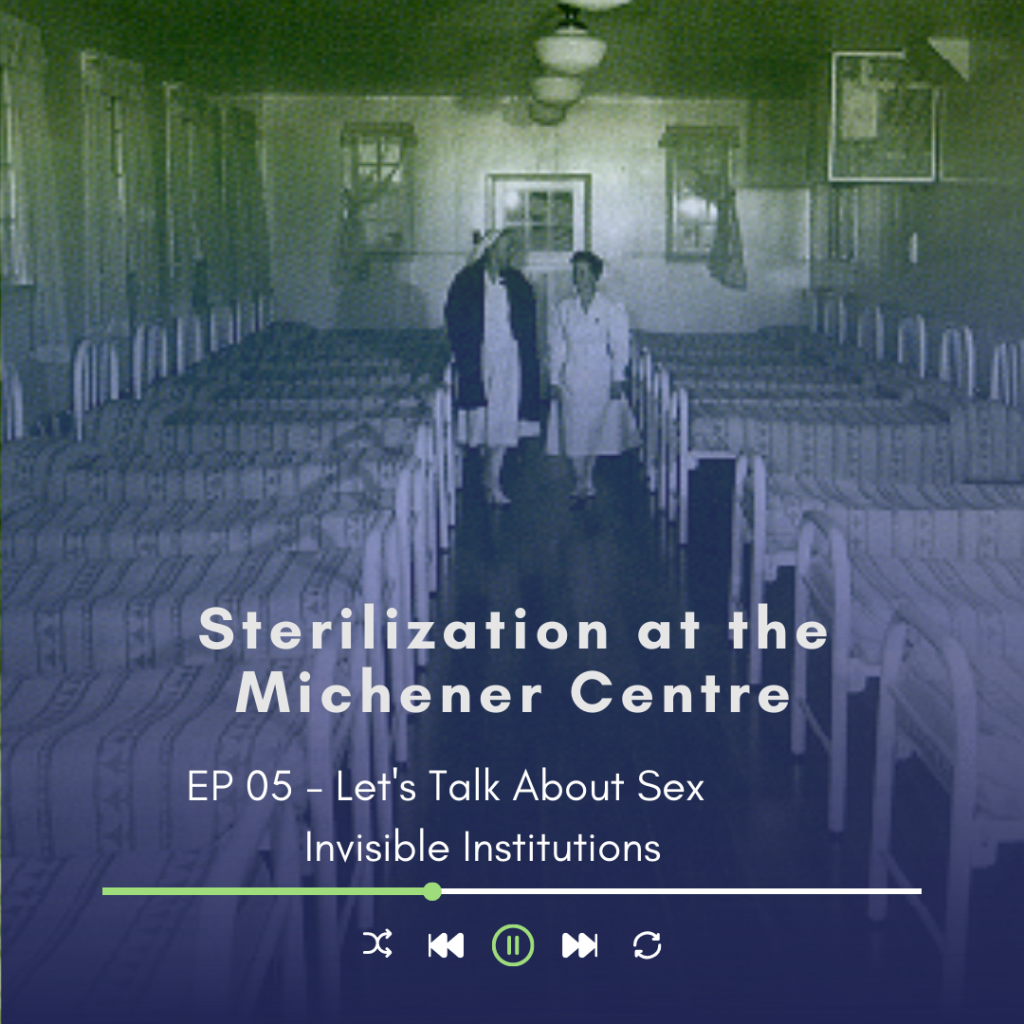 Show Notes
Reproductive justice means a lot more than abortion access. More than 2,000 people labelled with intellectual disabilities were subject to involuntarily sexual sterilization during Alberta's eugenics years & the fight is far from over.
Reproductive Justice was coined by Sistersong, a collection of Black, Indigenous and trans* people.
They define it as "the human right to maintain personal bodily autonomy, have children, not have children, and parent the children we have in safe and sustainable communities."
That later part, about the right to have and parent children is really important in context of this episode. Eugenics ideology and policy sought to control the ability for women labelled with intellectual/developmental disabilities to have a parent children, through forced sterilization, guardianship and institutionalization.
Francis Galton coined the term eugenics, which he defined as ""the science of improving stock—not only by judicious mating, but whatever tends to give the more suitable races or strains of blood a better chance of prevailing over the less suitable than they otherwise would have had".
You can learn more about eugenics via The Eugenic Archives and Eugenics, Newgenics.
Eugenics in Alberta were mobilized by both white supremacist "feminists" like Nelly McClung and the Social Credit Party. The Social Credit Party was lead by Bible Bill Aberhart. You can hear him in this episode, courtesy of Aberhart Foundation archive footage (publicly accessible) found here: http://www.aberhartfoundation.ca/Pages/Preacher.htm.
But better than listening to him, our Harbinger Media friends, over at the Alberta Advantage do an amazing unpacking of Social Credit Monetary Theory.
I am eternally grateful for the amazing work of Dr. Claudia Malacrida, A Special Hell is a devastating look into the conditions and sterilizations at the Michener Centre. Today, the Centre functions as a bunch of different group homes.
Involuntary sterilization is no longer legal, but that doesn't mean its' over. As recent as 2019, Indigenous women have reported instances of coerced sterilization. Michael Desjardins' look into sterilization practices of people labelled with I/DD, demonstrated ongoing examples of this violent practice.
And sterilization is just one part of this. Kelly Egan documented the restrictions by Ontario's guardian on one woman's right to marry. Guardianship is an ongoing piece of this legacy alongside institutionalization
Suggested Resources
Movies
The Sterilization of Leilani Muir
The Eugenics Crusade
BELLY OF THE BEAST
Books
A Special Hell by Claudia Malacrida
Eugenics Archives by Erika Dyck
Episode Credits
Invisible Institutions was created by me, Megan Linton, with support from People First of Canada & Inclusion Canada's Joint Task Force on Deinstitutionalization. Audio recording by Megan Linton with production assistance provided by Kendal David. This episode was advised by the Joint Task Force on Deinstitutionalization. Additional narration by Helena Krobath and Alex Johnston. Audio post-production and sound design were by Helena Krobath, and our theme music was composed by Bara Hladik. Special thanks to Claudia Malacrida, Alan Martino, Vicky Levack, Shoshana Forester Smith, Erika Dyck and the Eugenics Archives, the wonderful creators and narrators of the freedom tour. Thanks Leilani Muir, institutional survivors, researchers and self-advocates.
Tracks
Bara Hladik, Invisible Institutions Theme Song
Zlada, Cosmosis, Atmosphere
Works Cited & Consulted
coming soon