Sheltered Workshops and Sub-Minimum Wage Labour
In memoriam of Jean Marie Martel & Frederick Elijah Sanderson
Episode Description
Sheltered workshops are workplaces where people labelled with an intellectual/developmental disability are not paid fairly for the work they do. These programs promise training to prepare for employment, but for many it becomes a lifetime of "training". Sheltered workshops are exploitative programs that put workers at significant risk. Disability rights activist, PhD candidate at Harvard University, and co-founder of the Autistic Self Advocacy Network, Ari Ne'eman, and People First of Nova Scotia member Donnie Maclean join us to talk about the need for change to protect workers with disabilities.
Read the episode transcript below or by clicking on this link.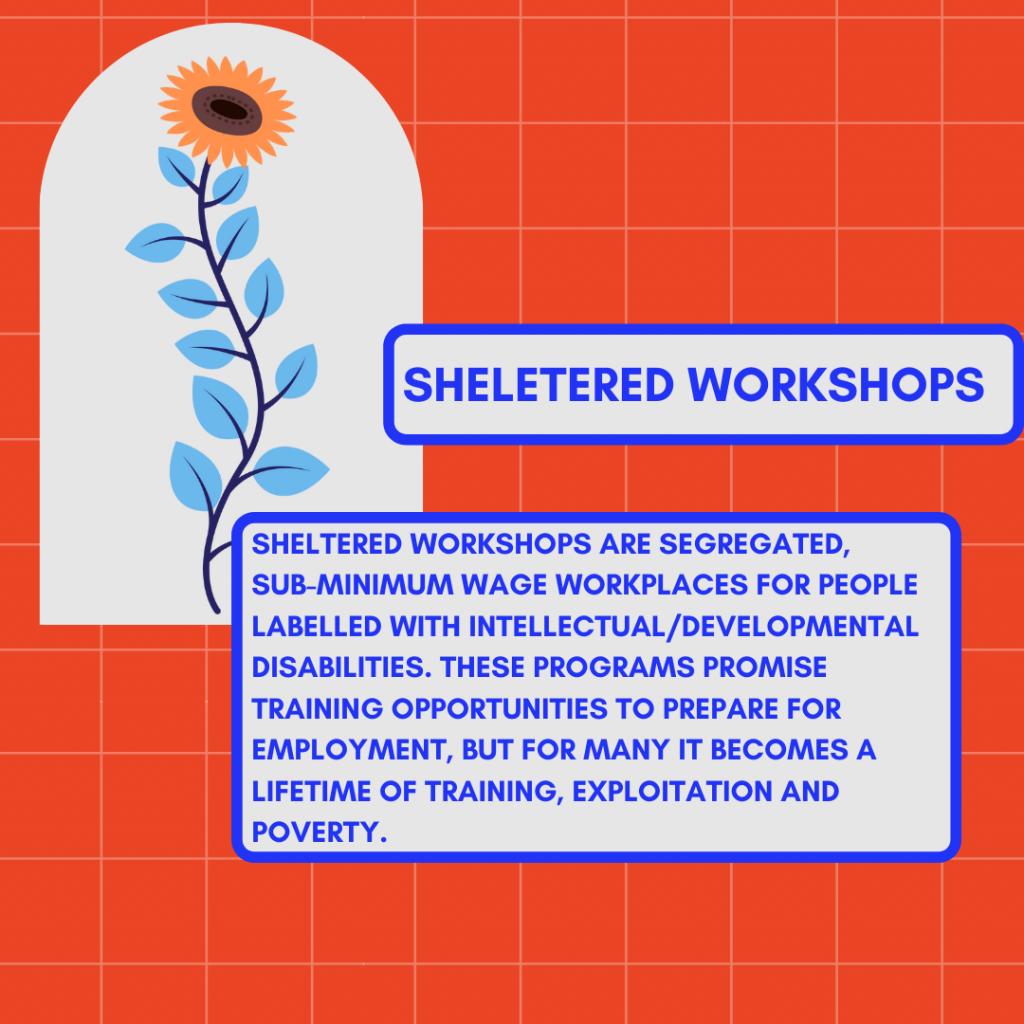 Show Notes
Help Wanted is a new report by the Institute for Research and Development on Inclusion and Society (IRIS). It found that:
100% of sheltered workshops were supported by provincial funding.
Workers on average work more than 2 years in sheltered workshops, despite their label of "training programs".
22% of sheltered workshops have workers who have been there for more than 20 years.
87% of sheltered workshops workers could be supported in paid workshops.
The history of institutional labour in Canada was largely excavated by Mad activists & scholars. From 2000-2010, Geoffery Reaume, an Assistant Professor of Critical Disability Studies at York University lead a wall tour around the walls of Centre for Addiction and Mental Health in Toronto, in order "to remember the men and women asylum patients who built, lived, worked and died behind the last remaining structures that still exist on the grounds of the former Asylum for the Insane, Toronto" (Reaume, 2011).
This podcast is called Invisible Institutions, to understand the way that institutions for people labelled with intellectual/developmental disabilities are disappeared by language like "home" and "care". But institutions are not the only thing that has been made disappear, As Dr. Jihan Abbas' phenomenal PhD Dissertation, Invisible Bodies Revealing the Unseen Contributions of Persons with Intellectual Disabilities makes evident. Her work seeks to:
" make visible the capacities and contributions of many adults with intellectual disabilities and to lay the foundation for funding and policy solutions that promote stronger versions of inclusion that are not reliant on labour market participation or economic norms".

Jihan Abbas, 2014
Host, Megan Linton wrote an article for Briarpatch Magazine connecting the continuities between prison labour and sheltered workshops, and the need for solidarity in labour organizing. She argue that the labour movement should be a central driver for fair wages for workers with disabilities.
"Instead of pitting unionized workers against non-unionized workers in a race to the bottom, the labour movement should invite in disabled and incarcerated workers, to strengthen its demand for a fair day's wage for a fair day's work."

Megan Q. Linton, 2021 for Briarpatch Magazine
Truly delighted to get to interview & nerd out with Harvard Kennedy School PhD Candidate Ari Ne'eman. His blog posts "(Almost) Everything You Need to Know About Sheltered Workshops" aptly point out
"Disability policy is full of examples of yesterday's innovation becoming today's indignation."

Ari Ne'eman, 2015
Episode Credits
Invisible Institutions was created & written by me, Megan Linton with support & advisement from People First of Canada & Inclusion Canada's Joint Task Force on Deinstitutionalization. Audio post-production, storyboarding, and sound design were by Helena Krobath. Our theme music was composed by Bára Hladík, with her album Zlata incorporated through the episode. Special thanks to Donnie Maclean, David Weremy, Jamie-Lynn McDowell, Ari Ne'eman, Kit Chokly and Kendal David.
Track List
Works Cited & Suggested Resources
Galer, D. (2018). Working towards equity: Disability rights activism and employment in late twentieth-century Canada. University of Toronto Press.
Gillmore, M. (2018). End of Ontario's sheltered workshops program drawing closer Rabble.ca. https://rabble.ca/news/2018/01/end-ontarios-sheltered-workshops-program-drawing-closer
Institute for Research and Development on Inclusion and Society. (2021, September). Help Wanted—Ending Sheltered Work in Canada: Transitioning to Inclusive Employment for People with Intellectual and Developmental Disabilities. https://irisinstitute.ca/wp-content/uploads/sites/2/2021/09/Help-wanted-Full-Report-EN.pdf
Lejeune, A. (2021). Fighting for sheltered workshops or for inclusive workplaces? Trade unions pursuing disability rights in Belgium. Disability & Society, 1–19. https://doi.org/10.1080/09687599.2021.1921702
Linton, M.Q. (2021). A Penny A Poppy. Briarpatch Magazine. https://briarpatchmagazine.com/articles/view/sheltered-workshops-poppies-disabled-workers
Ne'eman, A. (2015a, September 20). (Almost) everything you need to know about sheltered workshops: Part 1 of 2. Sometimes A Lion. https://arineeman.com/2015/09/20/sheltered-workshops-part-1/
Ne'eman, A. (2015b, September 26). (Almost) everything you need to know about sheltered workshops: Part 2 of 2. Sometimes A Lion. https://arineeman.com/2015/09/26/sheltered-workshops-part-2/
Picard, A. (2015, March 24). You don't help disabled workers by hiding them. The Globe and Mail. https://www.theglobeandmail.com/opinion/you-dont-help-disabled-workers-by-hiding-them/article23584592/
Reaume, G. (2000) Remembrance of Patients Past. Chapter 5 "Patients Labour" (pp. 133-180). Oxford.
Reaume, G. (2004). "No Profits, Just a Pittance: Work, Compensation, and People Defined as Mentally Disabled in Ontario," 1964-1990. In S. Noll & J. Trent (eds.) Mental Retardation in America. (pp. 466- 493). New York: University Press,.
Reaume, G. (Fall/Winter 2010-2011). "Psychiatric Patient Built Wall Tours at the Centre for Addiction and Mental Health (CAMH), Toronto, 2000 – 2010", Left History, 15:1: 127-146
​​Williston, W. (1971). Present arrangements for the care and supervision of mentally retarded persons in ontario. Ontario Department of Health. https://www.mcss.gov.on.ca/documents/en/mcss/dshistory/legislation/Williston%20Report.pdf